Stalker Pro II Speed Sensor Radar
Powerful, Feature-Loaded Sports Speed Measurement Radar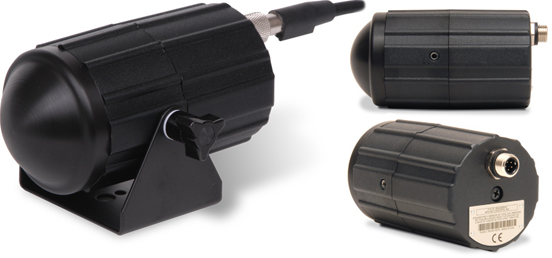 .
The Pro II Speed Sensor is a complete and highly-accurate Doppler Radar in a small, rugged waterproof housing that can measure the speed of a wide variety of objects including baseballs, vehicles, tennis balls, and hockey pucks. It combines features and performance of the Stalker Pro II handheld sport gun with the Sport Speed Sensor configuration. The unit is available in an RS-232 model and an RS-485 model and includes complete software support.
Product Features
---
Same performance as the Major League favorite Pro II Hand held
Waterproof design
PC application available for configuration and communication with the radar.
Reports speeds in MPH, km/s, knots, feet/second, or meters/second in whole units or tenths resolution.
Measures speeds up to 890 MPH.
Directional - tracks objects moving in either direction.
Reports Live (Rolldown), Peak, and Highest Peak speeds in one direction; Hit speeds in opposite direction.
Detects baseballs to 500' and average-sized automobiles to 1¾ miles
Wide range of High and Low Speed Thresholds to focus on speed range of interest.
Tracks everything from car-sized objects (and larger) to BBs.
Automatic cosine angle adjustment compensates for both off-horizontal and off-vertical angle readings
Waterproof; Ka-Band, 34.6 GHz; 15mW nominal power output; ±0.3% accuracy.
Connect multiple radars in point-to-multipoint configuration (RS-485)
A, A1, b, bE, and S streaming data protocols.
Specifications
---
General Specifications: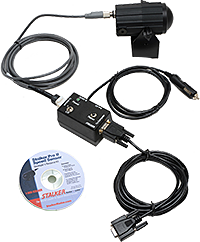 | | |
| --- | --- |
| Product Type | Stationary Doppler Radar Speed Sensor |
| Processor | Digital Signal Processor |
| Operating Temperatures | -30°C to +70°C (-22°F to +158°F), 90% relative humidity |
| Storage Temperatures | -40°C to +85°C (-40°F to +185°F) |
Microwave Specifications:
Operating Frequency
34.7 GHz (Ka-band)
Frequency Stability
±100 MHz
Antenna Type
Conical Horn
Polarization
Circular
3 db Beam Width
12°±1°
Microwave Source
Gunn-Effect Diode
Receiver Type
Two direct-conversion homodyne receivers using four low-noise 
Schottky barrier mixer diodes
Power Output
10 mW minimum
15 mW nominal
25 mW maximum

Power Density
1 mW/cm2 maximum at 5 cm from lens
The Federal Communications Commission requires that all transmitting equipment carry a Grant of Type Acceptance. The Stalker Speed Sensors comply with Part 90 of the FCC rules and are Type Accepted by the FCC under Type Acceptance number IBQACMI002. The FCC also requires that an operating license be obtained by the user of the equipment.
Performance Specifications:
Speed Range
Max target speed: 800+ MPH
Min target speed: < 1 MPH

Accuracy
+/- 0.3%
In ones resolution, speeds are rounded to nearest integer.
In tenths resolution, speeds are rounded to nearest tenth.

Maximum Clocking
500 Feet for baseballs
1 ¾ Miles for an average auto

Distance
Circular
Audio Output
Raw 3.3 V analog audio output signal is provided for Doppler audio – must be filtered and amplified for best audio quality.
Speed Alarm Output
With speeds at or above the Alarm Threshold, the Aux pin is 3.3V and can drive 10mA.
Electrical Specifications:
Supply Voltage
9 – 28 VDC

Current (at 12 VDC nominal)
Transmitter On: 390 mA
Transmitter Off: 138 mA

Physical Specifications:
| | |
| --- | --- |
| Weight | 1.15 lb (0.52 kg) |
| Diameter | 2.6 in (6.7 cm) |
| Length | 4.7 in (11.8 cm) |
| Case Material | Aluminum die cast |